This is an archived article and the information in the article may be outdated. Please look at the time stamp on the story to see when it was last updated.
Federal forecasters' high surf advisory for Southern California beaches warned Tuesday that potential breakers of 10 to 15 feet may cause the largest surf seen in recent years in the areas.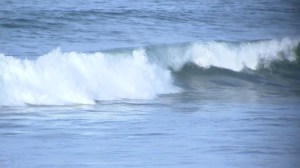 The advisory was issued for Los Angeles, Ventura, Santa Barbara and Orange County beaches, from Tuesday through 6 p.m. Friday, the National Weather Service stated.
"Very strong rip currents and long shore currents will likely create extremely dangerous and life threatening conditions for anyone," the high surf advisory stated. "Surf this large will have the potential to cause structural damage and significant beach erosion."
Surf was expected to increase rapidly Tuesday, with peak breakers hitting beaches Wednesday and slowly diminishing through Friday.
Late Tuesday afternoon, several wooden pilings broke away from the Malibu Pier, which was evacuated amid heavy surf.
The unsafe swimming and surfing conditions were caused by Hurricane Marie,  located several hundred miles off Cabo San Lucas, Mexico.
Los Angeles and Ventura County beaches were expected to see the most dangerous swimming conditions, but the storm's direction could also cause the potential for a rare high surf in Santa Barbara County as well as south and southeast-facing shores.
People were advised to stay off rocks and other structures that extend out to sea because the tall waves could "suddenly inundate beaches" and knock climbers into the water, the weather service stated.
All swimmers were advised to stay out of the ocean. If caught in a rip current, swimmers should swim parallel to the shore until free of the current then back to the beach and exit the water, the weather service stated.
More Video:
Abalone Cove Safety Task Force has deemed these areas unsafe due to the High Surf Advisory: https://t.co/3qYsBjckS3 pic.twitter.com/Bd3ikwWbjq

— LACoFD Lifeguards (@LACoLifeguards) August 26, 2014
**High Surf Advisory** SE #Marie Swell up to 15ft+. Full Details and Safety information here: http://t.co/KHZiN4GTL4 pic.twitter.com/zVLvzyHIfr

— LACoFD Lifeguards (@LACoLifeguards) August 26, 2014
Swell from Hurricane #Marie at Cabrillo Beach in San Pedro. Lifeguards there reporting 8-12ft surf w/ sets to 15ft+ pic.twitter.com/aF4n0d5XSI

— LACoFD Lifeguards (@LACoLifeguards) August 27, 2014