This is an archived article and the information in the article may be outdated. Please look at the time stamp on the story to see when it was last updated.
LONG BEACH, Calif. (KTLA) — Police in Long Beach are looking for some high-tech thieves behind a series of car burglaries using an unknown gadget.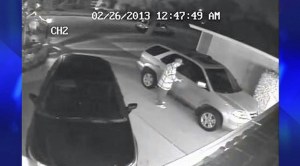 Surveillance video shows the thieves in action in the Eldorado Estates on the morning of  February 26.
One suspect uses some sort of hand-held device to unlock an Acura SUV.
Another suspect has the same device, and gets inside the vehicle. The burglars also tried, unsuccessfully, to unlock a Ford Escape and a Cadillac.
Police say this new auto theft technology has caught them by surprise.
"They attacked probably about seven vehicles on this particular morning within about a two-hour time period," said Long Beach police Det. Joe Starbird.
"The reason why this is unique is they're using a technology that we've never seen before," he added.
Long Beach police are urging residents to call 911 if you see any suspicious people or activity in your neighborhood.