This is an archived article and the information in the article may be outdated. Please look at the time stamp on the story to see when it was last updated.
A strong, dry cold front that moved into Southern California Christmas Eve brought high winds to the region Thursday, leaving palm fronds strewn across roadways and prompting a wind advisory.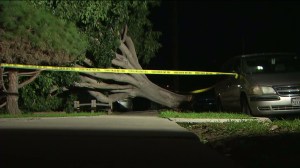 The advisory was in effect through noon Christmas Day in Los Angeles and Oxnard counties, and through noon Saturday in Orange County and the Inland Empire, the National Weather Service said.
Winds will range from 20 to 30 mph with isolated gusts of up to 55 mph in some areas, according to federal forecasters. Gusts of up to 75 mph were possible in Inland Empire desert slopes, with blowing sand and dust predicted.
Gale-force winds were also predicted for some coastal waters, and a high-surf advisory was in effect through 7 p.m. Thursday.
The winds were expected to make Christmas Day driving conditions difficult, especially for drivers with high-profile vehicles. The weather service also warned about possible downed power lines and broken tree limbs.
A large tree fell across a street in downtown Los Angeles Thursday, damaging at least one vehicle near 23rd and Los Angeles streets.
Nearly 12,000 customers were without power in L.A. Thursday morning, according to a Los Angeles Department of Water and Power spokeswoman.
Meanwhile, the cold front brought the slight chance of snow in the mountains and showers along and west of the mountains in Orange, Riverside and San Bernardino counties.
The Grapevine could also be impacted, the weather service said, advising anyone traveling on the 5 Freeway to be cautious.
A freeze was possibly Christmas night in Ventura County valleys.
Instead of presents under a tree on Christmas, one L.A. woman found her SUV under a tree! Very windy weather. @KTLA pic.twitter.com/0DarEyZ0B7

— Steve Kuzj (@SteveKuzj) December 25, 2014