This is an archived article and the information in the article may be outdated. Please look at the time stamp on the story to see when it was last updated.
After Highland Park residents referred to a new Starbucks location in the L.A. neighborhood as the "most depressing in America" and "prison-like," Starbucks has promised to take action and make the coffee shop more representative of the area.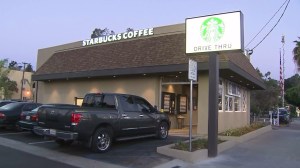 The Starbucks, which opened recently, came under fire in a Highland Park architect's review posted Monday on the local news blog The Eastsider.
"The building has no legible design intent, awkward space planning and poor craftsmanship," architect Catherine Garrison wrote. "I am surprised that Starbucks let this retail outlet be built under their brand."
Business Insider reported that residents were calling the location the "most depressing Starbucks in America."
On Friday, in response to a KTLA inquiry, the company said it was taking the Northeast Los Angeles community's concerns seriously.
"We agree this store is not representative of this neighborhood, and are committed to taking specific actions that will address the concerns we've heard," a Starbucks spokesman said in a statement.
Located at 6240 York Blvd. (map), the Starbucks is in an area that locals have said is hip and up-and-coming, but the shop doesn't provide a "cool" ambience of its own.
"Everybody's talking about it. It has a very prison-like feel to it, actually. It looks very bland," neighborhood resident Steve Evangelista said. "It makes me very sad. It makes me very sad for this to be here."
The location, which is essentially a drive-thru with a walk-up window at a former burger joint, appeared busy on Friday. The shop does not offer indoor seating and its bathroom is more obvious than at other locations, some complained.
"When I actually saw this mockery of a building, I was insulted," local resident Chrystal Durazo said. "I have not purchased one cup of coffee from this building. Why? Because they would never dare open a building like this in South Pasadena, which is just across the bridge."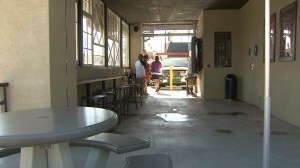 Starbucks had a 43-year history of "doing right by" customers, the company spokesman stated, and was "actively working to ensure our customers have the high quality experience they expect from Starbucks."
The Highland Park location was scheduled to host a grand opening Aug. 15, amid debate over whether the shop was a component in the controversial gentrification of the area and whether it would take business away from locally owned stores, according to a July 7 post and related reader comments on Eastsider.
Correction: An earlier version of this story gave the wrong block number for the Starbucks location; the exact address has been provided in an updated version of the story.
More Video: