This is an archived article and the information in the article may be outdated. Please look at the time stamp on the story to see when it was last updated.
A 23-year-old Reseda woman who said she was lost for two days in the mountains above Altadena was rescued after her cries for help were heard Monday morning, authorities said.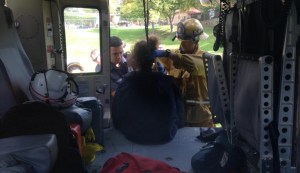 Searchers responded after callers reported someone yelling for help in from the area of Mount Lowe Drive and Maiden Lane just before 9 a.m., according to a Facebook post from the Los Angeles County Sheriff's Department's Altadena Station.
As storm clouds gathered, multiple crews searched dry waterways and debris basins. The area is considered rough terrain, sheriff's Lt. Randy Tuinstra said.
Searchers who hiked into Rubio Canyon found the hiker, described as a 23-year-old from Reseda.
She told her rescuers she had been stranded for two days, according to sheriff's Deputy Dan Page.
The woman said she was on a hike to Echo Mountain, a popular hiking destination, when she took "the wrong trail" and became lost, Page wrote in the Facebook post. She got stuck in an area where she could not hike back up the hillside because of loose, crumbly soil, and could not descend.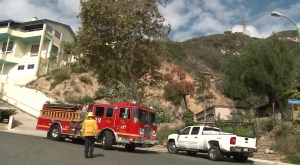 There was no cellphone reception, and she had very little food, water and no warm clothing.
"The hiker told me she was 'in over her head,'" Page wrote on Facebook. "We are all thankful she (was) located and made it off the mountain."
The hiker was airlifted in a Los Angeles County Fire Department helicopter to Farnsworth Park in Altadena, where she was assessed and then taken by ground to Huntington Memorial Hospital in Pasadena for treatment for possible hypothermia.
The area of Echo Mountain has seen lows in the 40s in recent days.
The county Fire Department, the Altadena Mountain Rescue Team and the Sierra Madre Search and Rescue Team participated in the search, as did search dogs.
The search effort appeared to be based at the Rubio Canyon trailhead.
KTLA's Jennifer Thang contributed to this article.
Correction: An earlier version of this article incorrectly identified the agency operating the helicopter in which the hiker was airlifted. The story has been updated.
#LASD 23y/o female found & Rescued by Copter 14, Above Altadena, she was lost for 2 days. Altadena #SAR assisting pic.twitter.com/8QhzZv3wvr

— Deputy Dan Paige (@LasdDan) November 9, 2015