This is an archived article and the information in the article may be outdated. Please look at the time stamp on the story to see when it was last updated.
Hillary Clinton visited the Los Angeles area for a campaign stop Thursday ahead of California's June 7 primary, bringing out crowds of both supporters and critics.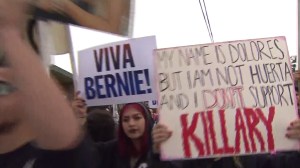 At an "organizing event" at East Los Angeles College in the late afternoon, she was met by hundreds of protesters, many of them apparently supporters of her primary opponent, Sen. Bernie Sanders of Vermont.
One protester held a sign showing Clinton with her husband, former President Bill Clinton, and the likely Republican nominee, Donald Trump.
Mounted deputies greeted the crowd.
Clinton planned to speak in the college's men's gym at 4 p.m. about her plans to "raise incomes for families and break down the barriers that hold Californians back," according to a brief description from her campaign.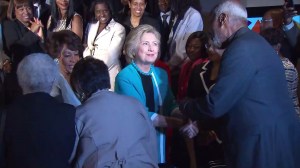 Earlier in the day, Clinton went to the California African American Museum in Exposition Park for a private meeting.
Also Thursday, Los Angeles City Councilman Jose Huizar hosted a fundraiser for Clinton, and a spokesman for him said he planned to attend a rally in support of her at the community college.
Clinton plans to head to Oakland on Friday.