This is an archived article and the information in the article may be outdated. Please look at the time stamp on the story to see when it was last updated.
The so-called Hills Bandit allegedly robbed a Laguna Niguel bank Monday after failing to do so at a La Jolla bank the same day, making it his ninth such crime in the past five months, according to FBI officials.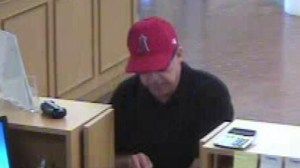 A second bank robbery in Orange County Monday was determined to be by another serial bank robber dubbed the Cal Bear Bandit, according to Federal Bureau of Investigation official Laura Eimiller.
The Hills Bandit, a middle-aged man who characteristically wears a baseball cap with a sports team logo, attempted to rob a bank in the affluent San Diego County neighborhood La Jolla around 2 p.m., officials said.
He then drove to a U.S. Bank in Orange County's Laguna Niguel community and successfully robbed it about an hour later.
"Some robberies he'll complete a robbery, get cash and the next day he'll do another robbery …. No matter what amount of money he gets, it's not enough, he keeps going. So that concerns us," FBI Special Agent Christopher Gicking said.
Monday's robberies came two weeks after the Hills Bandit was believed to be responsible for stealing money from a California Bank and Trust in La Jolla, according to an FBI San Diego Division news release.
A Wells Fargo Bank in Laguna Niguel was also believed to be robbed by the Hills Bandit Friday, Aug. 22.
In both cases, the man presented a note demanding $20, $50 and $100 bills, and made threats that he had a gun and would shoot people, the news release stated.
No gun was ever seen and no injuries were reported.
The string of bank robberies in San Diego and L.A. Counties beginning in May 2014 were all believed to be at the hands of the Hills Bandit, the news release stated.
He has allegedly robbed or attempted to rob a bank in Carlsbad, Lake Forest, and three in Laguna Hills, where he first got his nickname
"He's got the area around the banks mapped out, he knows where he's going. That's why I believe he's from the south Orange County area or at least familiar also with the San Diego area," Gicking said. "Somebody here knows him. Somebody that's watching the news probably knows him."
The Hills Bandit was described as a white man age 40 to 50 years old, about 5 feet 6 inches to 6 feet tall, weighing about 180 to 190 pounds.
In multiple robberies he carried a blue bank deposit bag, and wore glasses and a baseball hat with a Raiders, Chargers, Titleist, or Anaheim Angels logo.
Anyone with information was asked to contact the FBI's Los Angeles Division at 310-477-6565 or FBI's San Diego Division at 858-320-1800.
#OCSDPIO: Bank Robber "Hills Bandit" suspected in 9 bank robberies in South OC & SD County - Call 714-647-7000 VIDEO: http://t.co/baqGKKhiXz

— OC Sheriff, CA (@OCSheriff) September 9, 2014