This is an archived article and the information in the article may be outdated. Please look at the time stamp on the story to see when it was last updated.
Authorities on Friday were searching for the driver of a van who fled the scene after colliding with a motorcyclist.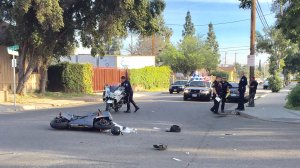 Officers responded to the crash at the intersection of Standard Avenue and Walnut Street around 5:10 p.m. and found the van had left the area, according to Santa Ana Police Cpl. Anthony Bertagna.
Surveillance video from a nearby business shows that the vehicles were traveling in opposite directions of Standard, when the driver of a white van turned left directly in front of the motorcyclist. It appears that the motorcyclist tired to stop before impact, but the motorcycle turned upright and the two vehicles collided.
Video shows the victim falling on the ground.
The driver of the van apparently did not stop after the crash and continued on Walnut.
Bertagna said the driver of the van had to yield to the motorcycle, but even after the crash, the driver did not stop.
The motorcyclist, eventually identified as Eduardo Estrada Luevano, 36, of Santa Ana, was transported to the Orange County Global Medical Center, where he later died of his injuries, Bertagna said.
Bertagna said the suspect vehicle appeared to be a utility van with tall ladders, possibly used for painting.
Investigators are reviewing more surveillance video and are interviewing witnesses.
A GoFundMe page has been set up by Estrada's family and friends to support his funeral expenses.