This is an archived article and the information in the article may be outdated. Please look at the time stamp on the story to see when it was last updated.
A bicyclist was left to die in the middle of a downtown L.A. road on Thursday morning after being hit by a FedEx delivery truck, which failed to stop even after the victim was pulled underneath the large vehicle and a man has been detained for questioning, Los Angeles Police Department officials said.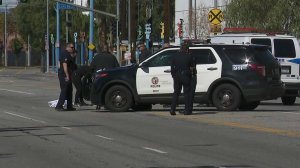 About 8:40 a.m., the bicyclist was riding eastbound on Washington Boulevard when she was struck in the middle of the intersection by a vehicle "exiting" Staunton Avenue and heading northbound, according to LAPD Capt. Alfonso Lopez.
Witnesses told police the bicyclist, identified as Elisa Gomez, 54, was directly in front of the truck, and both the rider and the bike went under the vehicle after impact.
It was not immediately known whether the driver saw the cyclist, but "based on the physical evidence at scene and based on the officer's expertise, and the construction of the traffic collision, it is our belief that the driver of the vehicle would have, or could have, or should have known that he had struck an individual," the captain said.
The driver fled the scene, leaving the wounded rider to die in the middle of the street, he said. A 34-year-old man has been detained for questioning. While authorities said the man left the scene of the crash, it is unclear if the man was driving the truck.
Surveillance video and witness statements indicated the vehicle involved in the fatal hit-and-run crash was a FedEx box truck, according to Lopez. Police have been in communication with the company amid the search for the driver.
A suspect description was not immediately released.
Lopez noted the investigation would be much different had the vehicle remained at the crash site.
"Had this individual stayed at scene and rendered aid — or at least called somebody and cooperated — and remained at scene, it would be looked at as a traffic collision," Lopez said. "The fact that his individual failed to stay at scene and then fled makes us look at it now like a hit-and-run investigation, leading to a manslaughter case."
Nevertheless, the captain added that it would still "behoove" the driver to immediately contact police.
The crash occurred in a largely industrial area just south of the 10 Freeway, on the border of downtown L.A. and the Central-Alameda neighborhood of South Los Angeles.
KTLA's Jennifer Thang contributed to this story. 
A bicyclist was struck and killed by @FedEx delivery truck on Washington and Staunton. The truck kept driving and LAPD is in contact with FedEx to try and locate the driver and truck. @KTLA pic.twitter.com/lgDx6aVa2x

— Chris Gierowski (@tepall14) March 15, 2018