This is an archived article and the information in the article may be outdated. Please look at the time stamp on the story to see when it was last updated.
Police are searching for a hit-and-run driver involved in a crash that left an 85-year-old man dead in Van Nuys Thursday morning.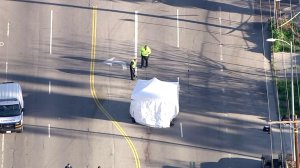 The pedestrian was struck by two vehicles about 5:35 a.m. near the intersection of Woodley Avenue and Leadwell Street, Los Angeles Police Department Detective Bill Bustos said. The man was later identified as Fidel Lopez, a resident of Van Nuys, by investigator Kristy McCracken at the county coroner's office.
The first vehicle stayed at the scene after striking Lopez, but a second vehicle that struck and dragged him about 25 feet did not stop, Bustos said.
Lopez died at the scene, Bustos said.
Police are looking the second vehicle, described only as black, Bustos said.
No description of the driver was available.
Anyone with information was asked to all the Police Department at 818-644-8000.
Correction: An earlier version of this article gave the incorrect day on which the crash occurred. The story has been updated.