This is an archived article and the information in the article may be outdated. Please look at the time stamp on the story to see when it was last updated.
Police were searching for a hit-and-run driver Monday who was involved in a multi-vehicle crash that left two people injured the night before.
The collision occurred when the hit-and-run driver sideswiped another vehicle in the 13100 block of Magnolia Street at about 11 p.m. Sunday, Sgt. Rich Burillo with the Garden Grove Police Department stated in a news release.
The hit-and-run driver then crashed into two parked vehicles before slamming into a tree and a wrought iron gate from an apartment complex, Burillo stated.
A woman who was standing next to one of the parked vehicles was talking to a man inside the parked car when the crash occurred.
She was taken to Garden Grove Hospital and Medical Center and treated for her injuries, Burillo stated.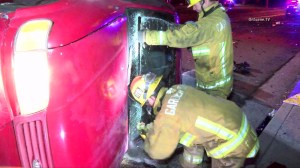 Video from the scene showed a red overturned vehicle with one person trapped inside.
Fire crews managed to remove the car's windshield and help a man out of the vehicle.
The injured man was also treated at the Medical Center, according to the news release.
Video from the scene also showed a damaged white pickup truck that came to a stop near the apartment complex gate where the hit-and-run driver fled.
The driver being sought by police was described as a white or Hispanic man with a red hat and a backpack.
It was unknown if drugs, alcohol or speed was a factor in the crash.
Investigators were working to determine the identity of the hit-and-run driver, Burillo stated.