This is an archived article and the information in the article may be outdated. Please look at the time stamp on the story to see when it was last updated.
A hit-and-run driver who struck and killed a much-loved mother and grandmother in Highland Park over the weekend never stopped to render aid to the victim as she lay dying in the street, authorities said Monday.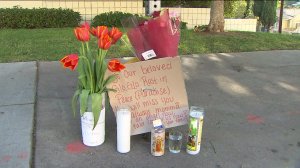 Gloria Ortiz, 57, was crossing the street in a marked crosswalk at the intersection of Avenue 50 and San Marcos Place on Sunday night when she was hit by an older model Honda Civic, a news release from the Los Angeles Police Department stated.
Ortiz was pronounced dead at the scene.
"They just ran her over, didn't even turn back to say 'I'm sorry,' or to see if she was OK," said Natalie Bernabe, the victim's step-daughter.
Ortiz had just left Bernabe's home, where the family had gathered to celebrate  her passing the U.S. citizenship exam, when she was struck.
Several family members, including Bernabe's 4-year-old daughter and 6-year-old niece, witnessed the collision.
"They are traumatized," said Bernabe, adding that her daughter "wakes up in the middle night screaming, 'Grandma stopped the car.'"
According to LAPD, the driver never applied brakes before hitting Ortiz and did not stop after the collision.
Witnesses told officers that the driver was distracted by his cellphone at the time of the collision.
They described the driver as being "possibly a male Hispanic," the release stated. Police had no further description available.
The vehicle was believed to have damage to the front windshield. It was last seen traveling southbound on Avenue 50.
Ortiz's family said they were just looking for an apology for the woman they dearly loved.
"That's all we would have asked from that person," Bernabe said.
Police were asking for the public's help in locating the hit-and-run driver. Anyone with information about the collision was asked to call Central Traffic Division Detective Felix Padilla at 213-486-0753 or LAPD at 1-877-527-3247.
Additionally, anonymous tips can be left through Crime Stoppers by calling 1-800-222-8477, texting to phone number 274637 with a message beginning with the letters "LAPD," and on the website LAPDOnline.org.