This is an archived article and the information in the article may be outdated. Please look at the time stamp on the story to see when it was last updated.
Drivers who flee the scenes of crashes in California could see descriptions of their cars and license plates displayed on freeway signs under a proposed expansion of the Amber Alert system.
For the second time in two years, state Assemblyman Mike Gatto (D-Los Angeles) has introduced a bill that would allow police to share details on hit-and-run drivers with the California Highway Patrol and display the information on freeway signs near the scenes of the crashes.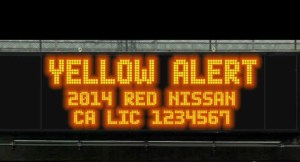 In September, Gov. Jerry Brown vetoed the same bill, saying he feared more additions could overwhelm the Amber Alert system.
Gatto said by 2016, when the law would take effect, California will have an "additional year of data" on whether the statewide alert system can accommodate more categories. It recently expanded to include information on missing people who are elderly and developmentally disabled.
Click here to read the full story on LATimes.com.