This is an archived article and the information in the article may be outdated. Please look at the time stamp on the story to see when it was last updated.
Investigators were searching Monday for the hit-and-run driver believed to have caused a truck to overturn, leaving debris scattered across the 60 Freeway in San Gabriel Valley and causing an hourslong closure of all eastbound lanes.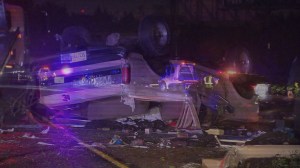 A vehicle made an unsafe lane change, causing a white Ford Bronco to overturn, California Highway Patrol Officer Robert Maday said.
"As a result of that Ford Bronco overturning, there was a large amount of debris that became scattered throughout all the lanes," Maday said.
All lanes on the eastbound 60 Freeway east of San Gabriel Boulevard in the Whittier Narrows area were closed and a SigAlert was issued around 2:20 a.m., officials said.
All lanes were reopened and the SigAlert was canceled around 4:10 a.m., CHP tweeted.
The driver of the Bronco was transported to USC Medical Center, and was expected to be OK, CHP stated.
A description of the hit-and-run vehicle was not available.