This is an archived article and the information in the article may be outdated. Please look at the time stamp on the story to see when it was last updated.
Passengers crowded into Los Angeles International Airport Saturday as the busy holiday travel season shifted into high gear.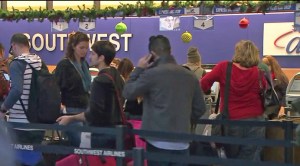 More than 2.6 million people were expected to pass through the airport between between Friday and Jan. 2, according to Los Angeles World Airports.
That number represented an 8.2 percent increase over the 2.4 million passengers who used LAX at this time last year, LAWA said.
Friday and Saturday were expected to be the busiest travel days of the season at LAX, officials said.
Airport officials said passengers should expect domestic flights to be 85-90 percent fully booked.
Travelers were urged to arrive at least two hours early for domestic flights and three hours before international flights.
To help drivers navigate the roads around LAX, the airport and the Los Angeles City Department of Transportation have launched a real-time traffic map.