This is an archived article and the information in the article may be outdated. Please look at the time stamp on the story to see when it was last updated.
Police asked the public for help Wednesday in locating a man and woman suspected of pickpocketing victims in the Hollywood area after distracting them.
Investigators say the man and woman approach their victims and tell them there is bird feces on them and offer to clean it off. As they are wiping the person's back, the man then removes the victim's wallet, the Los Angeles Police Department stated in a community alert notification.
In one incident, the man and woman took a camera from a distracted victim's backpack, the Police Department stated.
Walter Berry told KTLA he was targeted by a pair matching a description of the suspects.
"They looked like tourists because they had a Hollywood map," said Berry. "Suddenly I got hit from behind with a gooey substance."
Berry said the pair asked him if he was okay and pulled out napkins to wipe him off.
"She opens her purse and pulls out napkins and stuff and starts wiping me down," said Berry. "She poured water on my neck at the time. I think they were in coordination. That's when I felt this hand over here. I didn't think much of it, because I thought he was still patting me down, but that's when he got the money."
At least one of the crimes occurred near the intersection of Hollywood Boulevard and North Sycamore Avenue, a Police Department spokesperson said.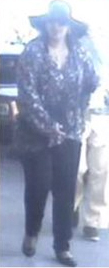 Authorities released surveillance images of the man and woman, as well as the vehicle they are believed to be traveling in.
The man was described as Hispanic, about 5 feet 6 inches tall and weighing between 170 and 180 pounds. He has black hair and brown eyes, and was wearing a blue/white checkered shirt, dark shorts and a black baseball cap.
The woman was also described as Hispanic. She stands about 5 feet 4 inches tall and weighs approximately 140 pounds. She was seen wearing a black shirt with flowers, black pants and a black hat.
Both are believed to be between 35 and 40 years old.
Police are searching for a newer model Nissan Rogue with dealership plates.
Anyone with information was asked to call the Police Department at 213-972-2939. Those who wish to remain anonymous can call Crime Stoppers at 800-222-TIPS (8477).