This is an archived article and the information in the article may be outdated. Please look at the time stamp on the story to see when it was last updated.
To the young male actors in his retinue in Santa Barbara in the 1970s, Gary Goddard was an exalted figure. A successful former theater prodigy, Goddard returned through his 20s to direct and mentor child actors in his hometown, vowing to bring the most talented with him to Hollywood. He attracted a constant orbit of devoted boys others referred to as the "Goddardites."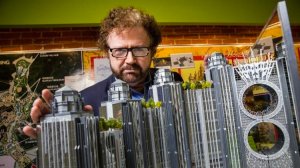 But the seemingly idyllic setting of privilege and promise had a dark edge for several members of the theater group. Four decades later, many of them say they have been haunted by their encounters with Goddard.
Since actor Anthony Edwards wrote in an online essay last month that Goddard sexually abused him as a pubescent actor in Santa Barbara, seven others from the theater group told the Los Angeles Times that their former mentor molested or attempted to molest them as boys.
They describe Goddard's advances as ranging from straying hands on thighs during lulls in a production or fondling in a darkened Disneyland ride, to repeated incidents of sexual abuse during a troupe's overnight stays in a statewide tour. In addition, Edwards and another former theater student said in interviews that a classmate who has since died, Scott Drnavich, told them that he was sexually assaulted by Goddard as a boy.
Read the full story on LATimes.com.