This is an archived article and the information in the article may be outdated. Please look at the time stamp on the story to see when it was last updated.
Police in Irvine are searching for a man who broke into a home, but was surprised when a babysitter walked inside with a little boy prompting him to flee.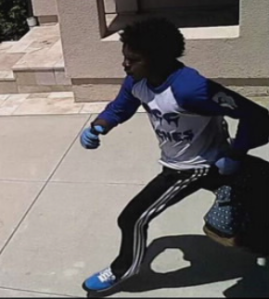 The home burglary was reported Monday between noon and 12:37 p.m. at a home in the 20 block of Royal Grove in the Woodbury neighborhood. When the babysitter returned to the home with a 4-year-old child, she saw the burglar on the staircase which led him to run out through an open garage door, the Irvine Police Department said in a news release.
The burglar was captured on surveillance video inside the home walking through a child's play room. The video also shows the babysitter and the child walking inside the house, then running out once they noticed the man inside.
"She did the absolutely right thing. As soon as she saw that he ran out of the house she went to a neighbor, got some help, called 911," Irvine police spokeswoman Kim Mohr told KTLA . "So she acted perfectly in this situation, made sure she was looking out for herself and the safety of the child."
Police said the burglar got into the home by smashing a back sliding door. The child's father said he is upset about the burglary, but relieved at how it turned out.
"I am most thankful that she took care of my son and they are both safe," the father told KTLA.
The burglar was described as Black, between the ages of 18 and 25, weighing about 170 pounds with black hair.
The man was seen wearing a long-sleeved blue and white shirt with the number "3" on one sleeve. He had on black Adidas sweatpants with white stripes down the side, blue tennis shoes and blue gloves. Police said he was carrying a blue backpack that had white polka dots on it.
Anyone who recognizes the man is asked to call Irvine Police Department Detective Jameson Roberts at 949-727-7170.