This is an archived article and the information in the article may be outdated. Please look at the time stamp on the story to see when it was last updated.
Deputies found and arrested a man Sunday afternoon after they say he stabbed his parents, who had just obtained a restraining order against him, at their Saugus home the previous night.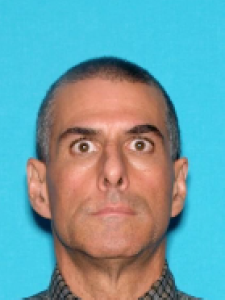 Gregory Ryan Brunson, 55, described as a transient and former body builder, was booked on suspicion of attempted murder following his arrest about 1 p.m. Sunday in some hills behind a neighborhood at Bouquet Canyon Road and Plum Canyon Road, the Los Angeles County Sheriff's Department said in a written statement.
Deputies had been seeking him since the alleged attack more than 16 hours earlier at a home in the 28000 block of Oaklar Drive.
Brunson attacked the man and woman sometime Saturday evening, sheriff's spokeswoman Shirley Miller said. But it wasn't discovered until the couple's grandson arrived at the home and found his grandmother wounded shortly after 8 p.m. He carried her out of the home and sought help.
First responders soon found the woman's husband also severely wounded inside the house, Miller said.
Both victims were taken to hospitals and expected to survive their wounds after undergoing surgery, officials said. They are in their 70s.
Brunson arrived at the home without notice, broke in and viciously attacked his parents, Miller said. The violence was so intense that the large kitchen knife used in the stabbing broke in the midst of the assault.
Brunson fled the area and managed to elude deputies until Sunday afternoon, when he was found and taken into custody without a struggle, according to the statement.
He recently moved to Southern California from Arizona and has an "extensive criminal history," according to Miller.
The victims had recently obtained a restraining order against their son, she said. But it had yet to be served.
Brunson was booked on suspicion of attempted murder, burglary, making criminal threats and mayhem, legally defined as permanently disfiguring a person or depriving a person of the use of a body part.
According to Los Angeles County booking records, Brunson's bail was set at $2 million bail pending his initial court appearance, scheduled Wednesday in the North Valley branch of Los Angeles County Superior Court.
Anyone with information is urged to contact the sheriff's Santa Clarita Valley Station at 661-255-1121, ext. 5146. Tips may also be submitted anonymously to L.A. Regional Crime Stoppers at 800-222-8477.