This is an archived article and the information in the article may be outdated. Please look at the time stamp on the story to see when it was last updated.
A homeless man was charged Friday with attempted murder in a stabbing attack on a Russian tourist who was with his family at the popular Hollywood & Highland center.
Donald Offerman, 54, was due to be arraigned in downtown L.A. on the attempted murder charge as well as four counts of assault with a deadly weapon, the Los Angeles County District Attorney's Office announced. He also faced a special allegation he used a knife.
The unidentified victim was visiting the outdoor mall in Hollywood on Wednesday afternoon when Offerman came up behind him and slashed the Russian man with a knife, according to the DA's office.
Then, as the family was walking up a flight of stairs, Offerman allegedly rushed toward them and swung the knife at them multiple times, prompting a struggle between the victim and the attacker.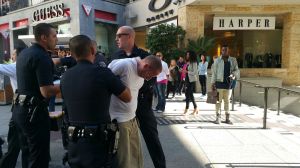 The man's wife and two children fled as the victim was cut again.
Two off-duty New York Police Department officers rushed to the victim's aid, bringing the assailant down. Witnesses described one of the officers detaining the attacker and putting him in a zip-tie.
The DA's office said the NYPD officers detained Offerman at gunpoint. The Los Angeles Police Department took Offerman into custody.
Images from the scene showed the victim bleeding as the attacker lay face down on the ground.
Prosecutors planned ask that bail be set at $670,000.
If convicted as charged, Offerman faces up to 24 years to life in state prison.
The victim was hospitalized in stable condition. It was not clear exactly what prompted the attack.