This is an archived article and the information in the article may be outdated. Please look at the time stamp on the story to see when it was last updated.
A transient was charged Thursday with the theft of a three-wheel bicycle specially made for a child with cerebral palsy in Burbank, prosecutors said Friday.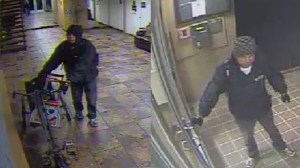 Carlos Andres Lopez was facing one felony count each of first-degree residential burglary, grand theft of personal property exceeding $950 and second-degree vehicle burglary, according to a news release from the Los Angeles County District Attorney's Office.
Lopez was accused of entering a secured parking garage at an apartment complex on Clybourn Avenue last month and stealing the $5,000 bicycle, the DA's office stated.
Lopez was also charged with stealing a sewing machine from the camper shell of a Ford Ranger at the same location, the release stated.
The bike, described as a "Berkel" brand (Pro 3), was specially designed for 13-year-old Damian Jeffries, who suffers from cerebral palsy.
According to investigators, an alert citizen who saw news reports about the stolen bike spotted the three-wheeler on the side of the road in Silver Lake several days after the theft.
The woman contacted Burbank police, who returned the bike to Damian.
The bike took 18 months to customize and multiple fundraisers, sponsors and a special grant to cover the cost, according to Damian's mother Allesha Jeffries.
According to his mother, the bike has a way of making Damian's cerebral palsy disappear.
"People stare at those things that make him different," she said. "When he's in the bike, even though it's a different bike, it's a cool bike."
The current charges against Lopez include allegations that he was previously convicted in nine separate cases between 1991 and 2011 for felonies that included grand theft, unlawful taking of a vehicle and first-degree residential burglary, the release stated.
Lopez faced a possible maximum sentence of 27 years and four months in state prison if convicted as charged.