This is an archived article and the information in the article may be outdated. Please look at the time stamp on the story to see when it was last updated.
A man shot dead by LAPD officers after a confrontation on Skid Row was identified Tuesday as a convicted criminal who was sent to prison for robbing a bank in Thousand Oaks 15 years before he was killed.
The Los Angeles Times first reported the victim's name, citing law enforcement sources, as Charley Saturmin Robinet, a French national who had enter the United States more than 15 years ago. Police sources confirmed that information to KTLA.
But a spokeswoman for the Consulate General of France in Los Angeles said Tuesday evening that the man who was shot by police was not a French citizen and had stolen the identity of the real Charley Saturmin Robinet years ago in order to get into the U.S.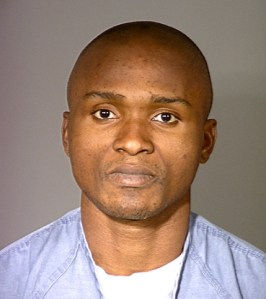 His real name was not known.
The man — known to some on Skid Row as "Africa" — was killed by officers in a Sunday daytime incident that was caught on video.
His killing provoked protests from police critics at LAPD headquarters and at Tuesday's Police Commission meeting.
"You can't kill Africa," protesters cried during a march that began in Skid Row Tuesday morning.
Neither police nor the coroner's office have officially identified the man.
He was wanted on a federal warrant issued in January for a probation violation, according to Laura Vega, a spokeswoman for the U.S. Marshals Service in Los Angeles.
Federal court documents indicate that the man who called himself Robinet was convicted of armed bank robbery, conspiracy to commit armed bank robbery and use of a firearm during a violent crime.
Along with two other men, one of whom drove the getaway car, he robbed a Thousand Oaks Wells Fargo branch. He was arrested the same day as the Feb. 23, 2000, robbery, according to the Ventura County Sheriff's Office.
The robber pistol-whipped and kicked a bank teller who was unable to open a vault, according to court documents. A bank manager opened the vault and the men got away, prompting a high-speed chase. The man known as Robinet had $33,500 on him when he was arrested, the Times reported.
He had wanted to pay for acting lessons at the Beverly Hills Playhouse, the Times reported when he was sentenced to 15 years in federal prison, in August 2000, at age 24.
He was ordered released in September 2013, with a federal judge saying he should be sent to a residential recovery center for up to 180 days in part because he had "no other options for shelter," a federal judge's order stated.
It was not clear if he in fact lived in a recovery center after his release, which occurred May 12, 2014, according to online federal inmate records.
His defense attorney said he had had no contact with his client since the case and was shocked to learn the he was the man who had been shot dead by LAPD.
On Monday, Los Angeles Police Department Chief Charlie Beck asked the public not rush to judgment on the shooting.
Beck said the man had grabbed an officer's holstered gun, and that the primary officer involved could be heard saying "He has my gun, he had my gun."
At least two officers involved were wearing body cameras, Beck said. The footage would be part of the investigation but would not immediately be released, he said.
KTLA's Nidia Becerra Tijerino contributed to this article.
More videos: