This is an archived article and the information in the article may be outdated. Please look at the time stamp on the story to see when it was last updated.
A homeless man was sentenced Thursday to six years in state prison after pleading no contest to attacking an 11-year-old boy outside the Walt Disney Concert Hall in downtown Los Angeles.
Raul Villalba Ocampo, 33, entered his plea to one count of child abuse before being sentenced, according to the Los Angeles County District Attorney's Office.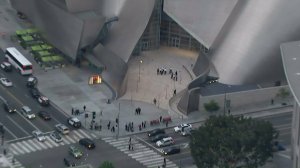 The fifth-grader was on a school field trip on Dec. 10, 2015, when Ocampo placed the boy in a chokehold and punctured his neck with a sharpened key, the DA's office stated.
Ocampo held onto the boy until security personnel were able to intervene.
The boy had "very minor cuts" on his neck after the "light assault," and he was hospitalized as a precaution, Los Angeles County Sheriff's Department officials said the day of the attack.
"He's a trouper," sheriff's Lt. Bob Killeen said of the boy.
Ocampo was taken in for a mental health evaluation after the assault, the results of which were not known.