This is an archived article and the information in the article may be outdated. Please look at the time stamp on the story to see when it was last updated.
About 300 people turned out Wednesday for the dedication of Potter's Lane, an Orange County apartment building constructed with recycled shipping containers that will house homeless veterans.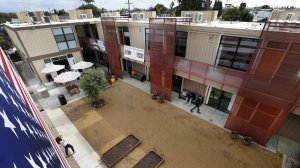 The $6.3-million project, due to open by mid-February, will be the state's first multifamily housing made from shipping containers, said Donna Gallup, president and chief executive of American Family Housing, an Orange County homeless services and housing organization.
The new apartments stand on a parcel owned by American Family Housing adjacent to its Midway City headquarters.
In an emotional address, Gallup told the audience gathered under a circus-style tent in the American Family Housing parking lot that the breakneck construction schedule had brought on yelling, tears and meltdowns but ultimately proved a concept for quickly developing high-quality, durable and energy-efficient homeless housing on a short timeline.
Click here to read the full story on LATimes.com.