This is an archived article and the information in the article may be outdated. Please look at the time stamp on the story to see when it was last updated.
Update: The victim's parents have spoken out about the fatal incident, which was witnessed by the young man's girlfriend. Read KTLA's updated story here. 
Homicide detectives are investigating the death of a 19-year-old man who was stabbed in a parking lot outside a Walmart in Temecula early Wednesday afternoon, according to the Riverside County Sheriff's Department.
Authorities responded to the scene at a Walmart in the 32200 block of Temecula Parkway, sheriff's officials said.
A call came in at about 12:15 p.m. about a suspected assault with a deadly weapon, Riverside County Sheriff's Deputy Mike Vasquez said.
Some sort of "altercation" between two men led up to the incident, sheriff's officials said in a news release, and it started outside the Walmart and moved into the store's parking lot. One of the men suffered a stab wound and was treated at the scene and then taken for medical care, but he later died, officials said.
Officials have not released the victim's name, but his parents identified him to KTLA as Kevin Rodriguez.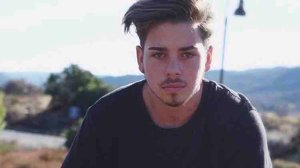 He was described as a "loving" son, brother and cousin, who was "full of life and adventure," Brenda Rodriguez wrote on a GoFundMe page set up to help pay for funeral costs. He pursued his passion of film and loved going to church, she said.
A man described as a person of interest was detained, and in a news release, sheriff's officials said there are "no outstanding suspects in this incident."
The department also cleared up some speculation on social media about the violent incident, which some claimed had to do with a parking spot. Sheriff's officials said "this was not a dispute regarding a parking stall," in a news release.
KTLA's Matt Phillips contributed to this article.