This is an archived article and the information in the article may be outdated. Please look at the time stamp on the story to see when it was last updated.
Investigators are searching for a woman's live-in boyfriend after she and her teen daughter were found dead in their Monrovia apartment on Wednesday, officials said.
Sheriff's deputies responded to assist Monrovia police after they found the victims' bodies around 1 p.m. while performing a welfare check at the residence on the 800 block of West Colorado Boulevard, across the street from Monrovia High School, the Los Angeles County Sheriff's Department said in a news release.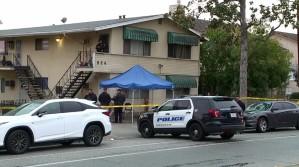 A person connected to the family had contacted Alhambra police, who alerted authorities in Monrovia "that a person had possibly been assaulted within this apartment," sheriff's Lt. Derrick Alfred said.
A family friend told KTLA the last known contact with the victims was Sunday evening, and that the teen did not attend school at Monrovia High the past three days.
Officers who responded to the apartment were unable to make contact with anyone there. They found the victims' bodies inside after entering the upstairs unit through an open window, sheriff's officials said.
Both mother and daughter were pronounced dead at the scene.
The victims names have not been released, but authorities said the girl is 17 years old and the mother is in her 30s, and both appear to be Latina.
There were no details on the condition they were found in.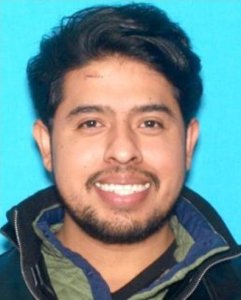 The mother's boyfriend, 33-year-old Nimrod Perez Guerrero, has been identified as a suspect in the double homicide case.
Investigators were unable to locate Guerrero Wednesday night and said he was likely traveling in a gray 2014 Toyota RAV4 with California license plate No. 7FPB132.
Authorities described him as a Latino man measuring around 5 feet 8 inches tall and weighing around 200 pounds with brown hair and eyes. He was believed to be armed and dangerous.
"We're trying to lock him down to a location so that we can talk to him," Alfred said.
Monrovia High School released a statement saying it's mourning loss of a student and grief counselors will be available on campus Thursday.
Detectives remained at the scene late Wednesday night, and no further details were available.