This is an archived article and the information in the article may be outdated. Please look at the time stamp on the story to see when it was last updated.
Pomona police were looking for a 51-year-old man accused of killing a woman by allegedly pouring gasoline on her and setting her on fire on Christmas, authorities said Friday night.
Officers responded to the 1500 block of Cordova Street (map) about 1:45 p.m. after receiving a report of a person who had been set on fire, according to a news release from the Pomona Police Department.
Neighbors who saw the victim running from a residence fully engulfed in flames came to her aid when she collapsed on the street, and remained with her until Los Angeles County fire personnel arrived at the scene, according to the release.
The victim was treated at the scene for severe burns before being transported to a local hospital where she later died.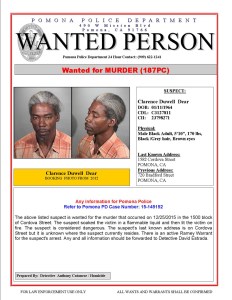 Police identified the woman on Saturday as 41-year-old Dawn Hensley, resident of Pomona.
Based on preliminary information, police believed that a domestic dispute between the two escalated from a heated argument to physical violence.
At some point, the man chased the victim from the residence, allegedly doused her with gasoline and then ignited her, possibly with a cigarette, the release stated.
After she collapsed, he fled the scene and has not been seen or heard from him since. Authorities identified the man as 51-year-old Clarence Duwell Dear.
In a "wanted" poster released by police, he was described as black, 5-foot-10 inches tall, weighing 170 pounds, with black and grey hair, and brown eyes. Authorities have released a booking photo of him from 2012.
He was considered to be "extremely dangerous," according to the release. It was unknown whether he was armed.
Pomona police have urged anyone with knowledge of Dear's whereabouts to contact them at 909-620-2085 or call 911.
Anonymous tips can be left by contacting Crime Stoppers at 1-800-222-8477, or call Pomona police dispatch at 909-622-1241.