This is an archived article and the information in the article may be outdated. Please look at the time stamp on the story to see when it was last updated.
A composite drawing of the man suspected of killing a high school senior and wounding a boy in a double shooting last month in Monrovia was released by the Los Angeles County Sheriff's Department on Thursday.
The two victims and a female juvenile were in the garage of a home in the 100 block of West Cypress Avenue around 11:30 p.m. April 22 when the shooter approached the door and opened fire on the trio, according to a sheriff's news release.
Oscar Garcia, 18, and the unidentified male juvenile were both struck in the torso. The female was not hit by the gunfire.
Garcia was pronounced dead at the scene.
The second gunshot victim was taken to a local hospital in critical condition.
Garcia, the fifth in a family of six children, was visiting a friend at the time he was fatally shot, according to sheriff's Lt. Joe Mendoza.
The teen's mother became emotional at a news conference with investigators Thursday.
"It's been so hard for me and my family. We miss Oscar," Garcia's mother Guadalupe said. "He was an extraordinary kid. He touched everybody in the community. He was always going the extra mile to care for others. He didn't deserve to end this way — or in any other way."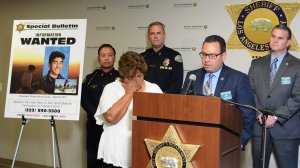 Authorities believe the assailant came to the home seeking someone but not the two who were struck since they do not live there, Mendoza said. Deputies don't believe the incident was gang-related, he added.
The suspect is described as a light-skinned Latino man between the ages of 20 and 25 years old, about 6 feet tall and of medium build with brown eyes, short black hair and a goatee. He was last seen fleeing southbound through an alley behind the home, Mendoza said.
Guadalupe pleaded for anyone with information on the incident to come forward.
"I don't want no mother to be going through this. No family deserves to go through this," she said. "Don't be afraid. Love has to overcome all this."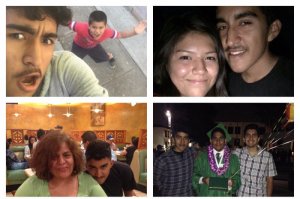 Garcia was a senior at Canyon Oaks High School in Monrovia, where he played soccer, and expected to graduate this June. He planned on attending Pasadena City College to study photography.
"Oscar was a vivacious, friendly, caring, and charismatic young man. We could always count on Oscar to be a respectful gentleman and offer a helping hand. Coming from a big family, Oscar was generous and always put others before himself," a GoFundMe page created for his family read. "As a best friend to his siblings, he knew how to lighten the mood with a joke when things were tense."
A motive for the shooting remains under investigation, and anyone with information is urged to call the department's Homicide Bureau at 323-890-5500.