This is an archived article and the information in the article may be outdated. Please look at the time stamp on the story to see when it was last updated.
A man who was reported injured and then declared dead on a bike path in Irvine Tuesday was identified, and police said he had been killed.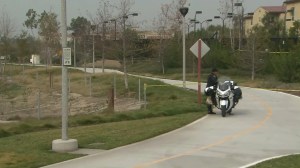 The body was found on a bike path near Los Olivos Apartment Homes and reported to police shortly after 7 a.m., according to a tweet from the Irvine Police Department.
The victim was later identified as 51-year-old Irvine resident Sidney Siemensma, the department tweeted. His death was confirmed to be a homicide, police said.
Several people reported to police that a man was bleeding and may be injured, police said. Motorists may have been able to see his body from the freeway, a police spokeswoman said.
Emergency crews responded and pronounced him dead at the scene.
Investigators were working to determine how the man became injured and what caused his death.
KTLA's Ashley Soley-Cerro and Melissa Pamer contributed to this report.