This is an archived article and the information in the article may be outdated. Please look at the time stamp on the story to see when it was last updated.
Authorities are investigating the circumstances behind two men found dead on a Moreno Valley street Thursday night.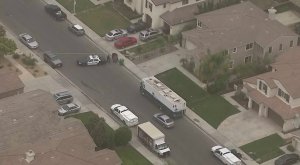 Police responded to the 27000 block of Auburn Lane about 9:20 p.m. Thursday to investigate a report of an assault with a deadly weapon.
Responding officers found the two men dead on the street. Police initially called the incident a double homicide, but the circumstances remain unclear.
Police said in a news release Friday morning that there is no threat to the public and that the investigation is ongoing.
It is unclear, however, how the men died. They have not been identified.
No further details were released Friday. Police remained at the scene Friday morning cordoned off the front yard of a home in a residential neighborhood. One official was seen in aerial video looking in a garage of the home.
Anyone with information can call 951-955-2777 or 951-486-6700.