This is an archived article and the information in the article may be outdated. Please look at the time stamp on the story to see when it was last updated.
A woman was found dead in an Artesia hotel Friday and homicide detectives are investigating the circumstances behind the suspicious incident, officials said.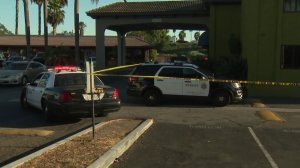 The incident was reported about 10:40 a.m. at the Artesia Inn and Suites, located at 16905 Pioneer Blvd., when a maid knocked on the door of a second-floor room and apparently found the woman dead inside.
Hotel employees alerted law enforcement to the grisly discovery and the woman was pronounced dead by Los Angeles County fire officials. L.A. County sheriff's homicide detectives have also since responded to the scene.
Authorities — and the body — were still at the scene 12 hours later.
Investigators believe she sustained a traumatic brain injury after being assaulted but were still unsure what type of weapon was used, according to a sheriff's department news release.
The woman has not been identified, but officials said she appeared to be of Asian descent and in her 30s. A woman at the scene who told KTLA she was the victim's roommate said she was from China.
A person renting the room the next door over said he saw and heard men coming and going at all hours for the better part of a week and suspected a sex worker was using the room.
Investigators did not comment on that possibility.
There was no information about possible suspects, but detectives said they were reviewing surveillance video from the past 24 hours to see who had visited the hotel.
Anyone with information about the incident can call 323-890-5500.
Correction: A previous version of this article referred to the hotel involved by its former name.