This is an archived article and the information in the article may be outdated. Please look at the time stamp on the story to see when it was last updated.
An investigation was underway Tuesday after a young woman was found dead with no obvious signs of trauma inside a business in Newport Beach, police said.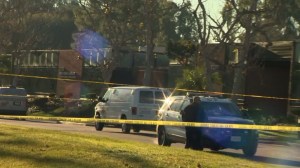 The woman's body was found after midnight in a business in the 5000 block of Campus Drive, Newport Beach Police Department Deputy Chief David McGill said.
The discovery came after two people reported to police shortly after midnight that they could not find their friend and were concerned for her safety, police spokeswoman Jennifer Manzella said.
The victim had stopped responding to texts and couldn't be reached with phone calls, the friends told police. One of the friends was searching for her in the area, Manzella said.
The woman, described as being 20 to 25 years old and possibly Caucasian or Hispanic, did not have any immediate, obvious signs as to the cause of her death, police Deputy Chief David McGill said.
"We treat it as a homicide because we just don't have all the answers right now. We got a long way to go, and the facts will unfold as time permits," he said.
It wasn't clear what the victim's connection was to the building where she was found, Manzella said. There were no signs of forced entry, and the building was secure, she said.
The victim had not been identified by Tuesday afternoon.
A white van was reported to have left the area, McGill added. Police want to talk to the vehicle's occupants.
The victim's friends were cooperating with investigators.
Police were also looking for surveillance footage.
KTLA's Melissa Pamer contributed to this article.