This is an archived article and the information in the article may be outdated. Please look at the time stamp on the story to see when it was last updated.
A Honolulu-bound plane with 300 people on board turned around midflight and safely made an emergency landing at LAX on Monday afternoon after initially being delayed by a fuel leak.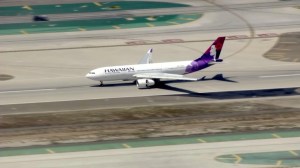 Hawaiian Airlines Flight 3 on an Airbus A330 departed Los Angeles International Airport at 12:48 p.m., according to LAX spokeswoman Nancy Castles.
The flight was initially delayed due to a fuel spill at the gate that did not appear to be a mechanical issue, according to a statement from Hawaiian Airlines. During the flight, an indicator light went on in the cockpit and the pilot elected to return to LAX, according to the statement.
"The plane circled to burn fuel in order to avoid an overweight landing.  The crew did not dump fuel, and there is no indication of a fuel leak," the statement read.
The flight had originally been scheduled to depart at 10 a.m.
The plane landed safely about 2:18 p.m. and taxied to the gate at 2:31 p.m. Ten crew and 290 passengers were on board, according to the airline.
Los Angeles Fire Department spokesman Erik Scott confirmed that the plane landed safely and said firefighters were on standby.
During the flight, crew members told passengers they believed there was enough fuel to get to Honolulu, passenger Jessica Ariola told KTLA.
"We took off and got about an hour and then they turned us back around. They said they were still leaking fuel," Ariola said.
Flight attendants did a good job keeping passengers calm and informed, Ariola said.
The aircraft departed again at 4:39 p.m. after maintenance crew inspected the plane and confirmed the fuel jettison valve was closed, the airline said in a statement issued later Monday afternoon.
It was scheduled to arrive in Honolulu at 7:19 p.m. local time.
More Video: