This is an archived article and the information in the article may be outdated. Please look at the time stamp on the story to see when it was last updated.
A "Hope for Hazel" fundraiser in Simi Valley was held Wednesday for the 6-year-old cancer survivor who made headlines years ago with an amusing call for pizza from her room at Children's Hospital Los Angeles.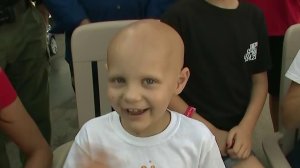 Four years ago, Hazel Hammersley was diagnosed with cancer at the age of 2. At that time, while at the hospital, she and her grandmother decided to put up a message in tape on the window of her room: SEND PIZZA RM 4112.
When a Redditor posted a photo of Hazel's message, it started making the rounds online and she ended up receiving about 250 pizzas, according to her mother.
From 9 a.m. until 3 p.m. on Wednesday, Hazel joins the Oxnard Police Department, Children's Hospital Los Angeles and the Lucy Pet Foundation for a fundraiser at Theresa's Country Feed & Pet collecting funds and blood donations to help her and other young patients.
The event will also help victims of Hurricane Harvey, according to Hazel's mother, Lauren Hammersley.
Hazel has a rare type of cancer called neuroblastoma, which develops in infants and young children, as KTLA previously reported. Her mother said she has had more than 100 blood transfusions, making all the donations and support much-needed and appreciated.
"It just means so much to us to know that we're not alone ... it can be really isolating," Hammersley said. "And knowing that our whole community is around us, and supporting us, has just really meant the world."
And Hazel has been making hopeful strides since she caught the world's attention with a plea for pizza.
"She's such an incredible girl," her mother said. "No matter what she's been through, she's stayed so positive and so up-lifting."