This is an archived article and the information in the article may be outdated. Please look at the time stamp on the story to see when it was last updated.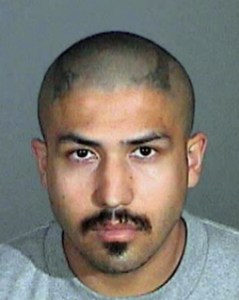 Police asked the public for help Tuesday in their search for a suspect in the fatal shooting of a man in Downey last month.
Jehosua Ruvalcaba, 27, was walking with the victim and two other men in the area of Paramount Boulevard and Stewart and Gray Road (map) at about 8:44 p.m. on Aug. 14 when the victim got into an argument with an unidentified person, according to a bulletin issued by the Downey Police Department.
During the argument, Ruvalcaba allegedly pulled out a handgun and fatally shot the victim before fleeing the scene.
The gun was not recovered at the scene and Ruvalcaba was considered to be armed and dangerous, according to the Police Department.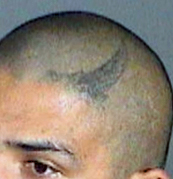 Ruvalcaba, who was described as having horns tattooed on his hairline, stands 5 feet 5 inches tall and weighs about 165 pounds, the bulletin stated.
Ruvalcaba has a shaved head in an image provided by the Police Department but authorities say he may have grown his hair out.
He was last seen wearing a white T-shirt.
Anyone with information was asked to contact the Police Department at 562-904-2308 or 562-904-2361.