This is an archived article and the information in the article may be outdated. Please look at the time stamp on the story to see when it was last updated.
A 30-year-old horse named "Phantom" needed to be rescued Wednesday by Sacramento County firefighters after getting stuck in a bathtub.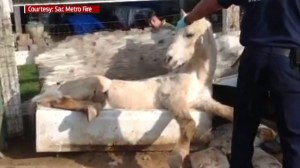 Phantom was dancing around her stall in Orangeville Wednesday morning when she tripped over a bathtub that doubled as her food trough and fell into it, according to the Sacramento Metropolitan Fire District.
"She was totally stuck, legs up in the air and all!" a post on the Fire District's Facebook page stated.
Upon finding the horse in the tub, Phantom's owners called Metro Fire for help.
Charles Campbell told KTLA sister station KTXL that when his wife called 911 for help, a confused dispatcher called back minutes later to clarify what had occurred.
"She called her back and she said, 'You're husband can't get out of the bathtub?' And she says, 'No, it's my horse,'" Campbell said.
It took rescuers about 20 minutes for firefighters to get their tools beneath the horse and lift her out, according to KTXL.
The Sacramento-area TV station reported that she was expected to be OK.
"Now Phantom can get back to dancing around the stall!" fire officials said in the Facebook post.
After the horse got out safely, Campbell joked that he would "have to get one of those old folks tubs that has the door on it."
The successful rescue of the horse was captured on video and posted to Facebook by Metro Fire.