This is an archived article and the information in the article may be outdated. Please look at the time stamp on the story to see when it was last updated.
Flash-flood warnings were issued for the Antelope Valley and parts of San Bernardino and Riverside counties Wednesday afternoon, amid an extended period of high temperatures and increased humidity. As of 10 p.m. all warnings had been canceled or downgraded.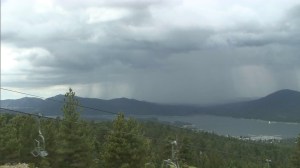 Flooding was reported just after 2 p.m. along Highway 18 southeast of Lucerne Valley, with parts of the road were washed away and several vehicles were stuck, according to the National Weather Service.
A flash-flood warning was issued through 5:30 p.m., in Apple Valley and Lucerne Valley. The warning for the eastern Antelope Valley was in effect through 6:15 p.m. as a thunderstorm moved across the area from Lake Los Angeles and Pearblossom toward Palmdale and Lancaster. Both warnings had expired.
The eastern San Gabriel Mountains were also subject to a flash-flood warning that expired at 9:30 p.m. Around 5:35 p.m., a thunderstorm was bringing heavy rain to Wrightwood, and the Angeles Crest Highway, which just reopened hours earlier from previous storm damage, was expected to see flooding.
A severe thunderstorm warning was issued through 4:45 p.m. for area between Banning and Idyllwild. Moreno Valley, Hemet and San Jacinto were also expected to see impacts. A flash-flood warning for that area, including Mountain Center, expired at 8:45 p.m.
Temperatures were expected to rise into the upper 90s to lower 100s through Friday before subsiding by a degree or two this weekend, according to the weather service.
During the same period, humidity will increase as a southeast flow brings a deep layer of monsoonal moisture to the region.
The combination of hot and humid weather could cause some parts of Southern California to approach excessive heat levels, forecasters warned. People at risk of developing heat-related illnesses were encouraged to be "extremely cautious," and to seek shelter in cool, air-conditioned places.
Meanwhile, a chance of thunderstorms will develop over the mountains, deserts and interior valleys, according to the weather service. Some coast and coastal valley locations could also see thunderstorms develop on Thursday.
Wednesday afternoon storms in San Bernardino County were expected to move northwest at 20 to 25 mph.
Wednesday's storms had initially been forecast to consist only of dry lightning. By Thursday, storms will be capable of producing heavy rain, dangerous cloud-to-ground lightning, strong erratic winds and flash flooding.
The risk of flash floods and debris flows would be greatest over recent burn areas, but also impacted any steep, loose soils and dry washes.
The threat of another storm and flash floods comes less than two weeks after heavy rains caused a 30-foot-by-50-foot section of the eastbound 10 Freeway in Desert Center to collapse.
Along the coastal areas, lifeguards were warning surfers of strong rip currents and elevated surf. The dangerous combination resulted in the rescue of some 400 swimmers in L.A. County, including a "blitz" rescue of 18 in Venice Beach.
With swimmers expected to flock to local beaches to escape the hot weather, lifeguards said they were expecting "similar activity" the rest of the week. Beaches will be fully staffed the rest of the week.
Scattered showers and t-storms will continue across the high desert and mountains this afternoon, moving northwest. pic.twitter.com/J9Ojd0Hkp4

— NWS San Diego (@NWSSanDiego) July 29, 2015
Flash Flooding Warning has been issued for the Antelope Valley in LA County. Turn around don't drown! #LAweather pic.twitter.com/g11xC9LcZ9

— NWS Los Angeles (@NWSLosAngeles) July 29, 2015
More Video: