This is an archived article and the information in the article may be outdated. Please look at the time stamp on the story to see when it was last updated.
HDOS Enterprises, owner of the employee-owned Hot Dog on a Stick snack shacks ubiquitous in malls, filed for bankruptcy protection Monday, citing expensive lease costs among the factors.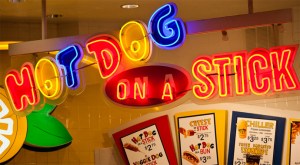 In its Chapter 11 filing, Hot Dog on a Stick said its total debt was $1 million to as much as $10 million. The court filing also shows the company estimated its assets between $10 million and $50 million.
"Like many mall-based businesses, HDOS signed some very expensive leases during the booming economy of the mid-2000s," Dan Smith, the company's chief executive, said in a statement. "In addition, declining mall foot traffic over the past several years has had a negative impact on sales at most company locations."
The chain, which operates primarily in malls in the western U.S., has about 93 locations and was founded in Santa Monica in 1946. The company sells lemonade, battered and deep-fried hot dogs on sticks (as well as cheese on sticks) and other snacks.
Click here to read the full story on LATimes.com.