This is an archived article and the information in the article may be outdated. Please look at the time stamp on the story to see when it was last updated.
Forecasters warned of a growing threat of fire danger Tuesday as wild winds, hot temperatures and dry conditions began to push across much of Southern California.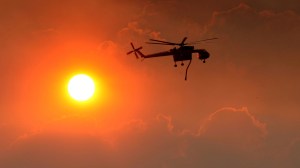 Gusty winds arrived overnight in several Southland areas and were expected to increase in Los Angeles and Ventura counties Tuesday morning before peaking some time Wednesday, according to the National Weather Service.
Gusts could top out between 40 and 50 mph across the valleys and foothills, as well as in coastal sections of Ventura County, and below passes and canyons from Malibu to the Hollywood Hills. Gusts in the mountains could reach up to 65 mph.
A red flag warning was set to be in effect from 2 a.m. Wednesday to 8 p.m. Thursday in much of Los Angeles and Ventura counties.
In the Inland Empire, gusts could peak at more than 70 mph on coastal mountain slopes and nearby areas, the weather service stated.
Periods of strong wind were expected to continue through Thursday, forecasters said.
Temperatures should begin to climb Tuesday before peaking Thursday with highs topping out in the upper 80s and 90s near the coast, while the valleys soar into the 90s to around 100 degrees, according to the forecast.
Residents were urged to take precautions by staying hydrated and wearing lightweight clothing when outdoors. Highs were expected to be about 20 degrees warmer than normal for this time of year through at least Friday.
Also, forecasters warned not to leave the elderly, children or pets in your car, even for a short period of time as temperatures can quickly reach dangerous levels.
Humidity levels were expected to drop into single digits for extended periods of time during afternoon hours this week. The threat of fires can reach critical levels when low humidity combines with strong winds and warm temperatures, forecasters said.
In response to the increased fire danger, CAL FIRE has increased its staffing and urged the public to be extra cautious as fire danger heightens.
"The drought has set the stage for a very dry and potentially dangerous fire season," Chief Ken Pimlott, CAL FIRE director stated in a news release.
"Fire season never really ended last year in Southern California and these strong winds will only elevate the current fire risk," Pimlott said.
The wind event was also expected to create swells that will impact east facing harbors, such as Avalon Harbor on Catalina Island and Smuggler's Cove on Santa Cruz Island. A small craft advisory was in effect for those areas.