This is an archived article and the information in the article may be outdated. Please look at the time stamp on the story to see when it was last updated.
Right-wing provocateur Milo Yiannopoulos and his entourage — including a Dutch Shepherd named Duke — arrived at UC Berkeley Sunday in a fleet of three Chevy Suburbans and made their way to the campus' famed Sproul Plaza.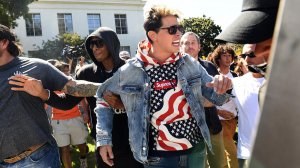 It was a decidedly different entrance than what Mario Savio and other student activists made when they started the free speech movement at the same campus square in the 1960s.
Yiannopoulos had been trying to summon the spirit of those days of free speech activism as he rallied for a week of right-wing dissent. But by Sunday, his grand plans had fizzled and big-name speakers had pulled out. The event itself was canceled.
That left Yiannopoulos to carry on alone. After months of sometimes violent clashes between the far-left and far-right on the streets of Berkeley, Sunday's event was decidedly anti-climactic — with the air of something hyped being deflated.
Read the full story on LATimes.com.