This is an archived article and the information in the article may be outdated. Please look at the time stamp on the story to see when it was last updated.
Many organizations are accepting donations as a series of fires continued to rage in Southern California Friday.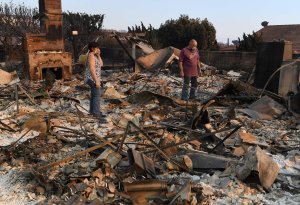 Six wildfires have burned about 160,000 acres — or 250 square miles — in the state this week, Cal Fire officials said, forcing some 190,000 people to evacuate. Dry air and strong winds were expected in Southern California through Sunday, potentially further fueling the fires.
Declaring a state emergency, President Donald Trump has ordered the Department of Homeland Security and Federal Emergency Management Agency to coordinate relief efforts in Los Angeles, Riverside, San Diego, Santa Barbara and Ventura counties.
For individuals who want to help out wildfire victims, here are some organizations accepting donations:
Salvation Army
KTLA has partnered with the Salvation Army for the Make the Holidays Happen campaign, which is working to provide relief to the wildfire survivors and first responders in Southern California wondering what their holidays will be like. Visit KTLA.com/holidays to donate or text HOLIDAYS to 515151 for a mobile link.
Catholic Charities of Los Angeles
The nonprofit is accepting donations on its website for wildfire relief efforts in L.A. and Ventura counties.
GoFundMe
The crowdfunding site is facilitating donations to the nonprofit Direct Impact Fund, which supports a number of campaigns related to Southern California wildfire relief. GoFundMe is also highlighting campaigns started by individuals and families affected by the fires.
A Santa Anita Park employee started a GoFundMe campaign for relief efforts connected to the San Luis Rey Downs training site in Bonsall, where an estimated 25 horses died during the Lilac Fire. According to the campaign page, donations were being accepted on behalf of a partnership between The Stronach Group, The Del Mar Thoroughbred Club and Santa Anita Park.
"Feed, bedding, blankets and many other everyday supplies are still needed for both human and equine evacuees, and donations towards medical bills, housing, and other essential amenities are necessary to help the hurting California horse racing community," the GoFundMe page said.
Humane Society
The Humane Society in Ventura County is accepting financial donations through its website, as well as supplies including horse feed, batteries, tarps and rope at its location at 402 Bryant St. in Ojai.
The Humane Society's San Diego chapter is also accepting monetary donations online and supplies including wire crates and bottled water at its San Diego campus on 5500 Gaines St. and at its Escondido location at 3450 E. Valley Parkway.
Los Angeles County Animal Care Foundation
The Department of Animal Care and Control encourages those who want to help animals affected by the wildfires to donate to the L.A. County Animal Care Foundation. The foundation is helping pay for the medical treatment of at least one horse rescued by animal control officers in the Creek Fire, which burned to death 29 horses in a Sylmar ranch.
Los Angeles Fire Department Foundation
The best way to support firefighting efforts is to donate to the LAFD Foundation, according to Chief Ralph Terrazas. "We use that to purchase tools and equipment for our firefighters," Terrazas said Thursday. The foundation provides private funding for the department outside "where the city's budget ends," according to its website.
Red Cross
Those want to donate through the Red Cross can visit redcross.org, call 1-800-RED-CROSS or text "REDCROSS" to 90999 to make a $10 donation. The organization is also accepting volunteers who want to support wildfire relief efforts.
United Way
United Way's greater Los Angeles chapter is collecting donations on its website for wildfire victims in L.A., San Diego and Ventura. The funds will be "allocated based on need to vetted organizations throughout Southern California," the group's website said.
The Ventura County chapter is also accepting direct donations for its Thomas Fire fund. Individuals can text "UWVC" to 41444 or visit the United Way of Ventura County website to donate.  The group's website says 100 percent of donations will go to those affected by the fires.