This is an archived article and the information in the article may be outdated. Please look at the time stamp on the story to see when it was last updated.
A little over a month after her horrific story of abuse made national headlines, a Fontana kitten has found a loving foster home with the family of radio personality Howard Stern, officials announced Wednesday.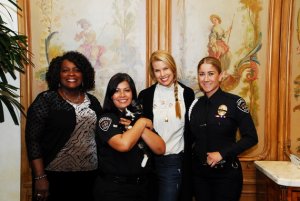 Olive was left with major injuries to her chest and a fractured leg early last month after being put in a freezer, squeezed, then tossed from a balcony at an Olive Street residence, according to Fontana police.
A 34-year-old man, Lucio Lopez, was arrested in connection with the incident. Investigators say he became angry with the cat after she entered his apartment, apparently without permission.
Although officials originally estimated the kitten was 4 months old, they said Wednesday she is only 3 months.
Beth Stern, an animal rights activist, wrote on her personal blog that she first heard Olive's story when it came across her husband Howard's news feed and he said, "We have to get her." The couple has already rescued 10 cats and fostered nearly 600 over the past four years, Us Weekly reported this January.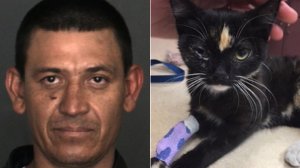 "When I read about Olive I felt physically ill and knew I had to do something to help," Beth said. "I am so very grateful to everyone from the City of Fontana who saved Olive's life and was thrilled to meet them when they brought her to me to bring home and foster."
Beth immediately got in contact with Fontana Animal Services and flew out to Southern California from New York last Friday to meet the recuperating Tortie. Olive was personally handed off by Fontana Mayor Acquanetta Warren, Animal Services Officer Jenny Fisher and Police Officers Jennie Venzor and Sgt. Kevin Goltara.
City officials are confident the kitten will be well cared for. "As an animal rights activist, (Beth) dedicates her life to fostering kittens and cats, particularly those with special needs, and helping them find their forever homes," they said in a news release.
Beth, a spokesperson for the no-kill rescue organization North Shore Animal League America, is already sharing updates about Oliver on her Instagram.
Since there Sterns are only fostering Oliver, there may still be an opportunity to adopt her. For more information, contact bethsternfosters@gmail.com.