This is an archived article and the information in the article may be outdated. Please look at the time stamp on the story to see when it was last updated.
Holiday travelers heading to LAX can expect traffic gridlock and possibly delays Friday as winter storms delay flights heading to the West Coast and departing flights have to wait for their planes to arrive, airport officials said.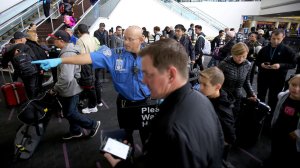 More than 130 flights are expected to be delayed before noon at Los Angeles International Airport Friday, said airport spokeswoman Mary Grady. Approximately 91 arrivals and 47 departures are delayed through noon, she said.
"When you've got that number of arrival delays, the departure delays are because they're waiting for equipment to arrive," Grady said.
At least nine flights were cancelled Friday going to or from LAX, according to flightaware.com.
Click here to read the full story on LATimes.com.