This is an archived article and the information in the article may be outdated. Please look at the time stamp on the story to see when it was last updated.
More than 1,200 sick sea lion pups have become stranded on Southern California beaches since the beginning of the year, and rescuers are being overwhelmed by the level of need.
The stranding numbers for the months of January and February were more than 20 times the average for the state, according to data distributed Friday by the National Oceanic and Atmospheric Administration.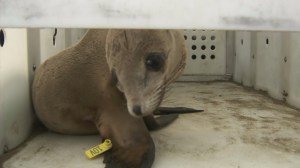 The increase in sea lion strandings began in December, and it's gotten worse since then, NOAA said.
Local marine mammal rescue centers are so crowded with sick pups that they can only take in a limited number of additional patients — about three or four a day.
"It's like being a paramedic and not having a hospital to take a patient," said Peter Wallerstein of the Marine Animal Rescue project in Los Angeles County. "Our hands are tied as rescuers."
Those pups in the weakest conditions may be euthanized to relieve their suffering, NOAA said. Those with a greater chance of survival may be monitored or moved to more remote locations for possible recover.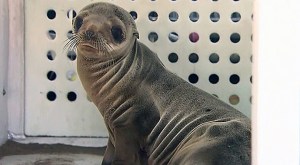 "We do understand that we can't save them all so we try to focus our resources and efforts to rehabilitate those sea lion pups that we feel have the best chances of survival," stated NOAA Fisheries' FAQ on the 2015 strandings.
Wallerstein, who's been rescuing sea lions from local beaches for more than two decades, said the crowding has forced him to perform "triage" on the sand. He said he's rescued more than 200 animals since the beginning of the year.
"There's so many of them now," Wallerstein said.
On Monday, Wallerstein was helping pups in the Marina del Rey area, a day after six dead sea lions were found nearby, in the El Segundo area. A group of pups that could not be taken for care had to be left on a Marina del Rey dock.
The rescued sea lion was "really skinny, hypothermic and definitely needs help," Wallerstein said.
The animals are being found weak, emaciated and dehydrated, with most of them severely underweight for their age.
Amid the ongoing stranding problem, SeaWorld San Diego has suspended its sea lion and otter show for at least two weeks so that trainers can help rescuers, a spokesman for the amusement park announced Saturday. The park, which was constructing a temporary pool for the pups, has rescued more than 400 sea lions this year, more than twice its usual number, according to the announcement.
The strandings are not a concern for the overall California sea lion population, which has been deemed very healthy. The species is not endangered or threatened under federal law, but sea lions are protected by the 1972 Marine Mammal Protection Act, which made it illegal to kill them and other marine mammal species.
In 2013, California saw a stranding epidemic dubbed an "unusual mortality event," with 1,171 pups stranded from January to April, according to NOAA data. For 2015, the number is 1,200 in just the first two months of the year.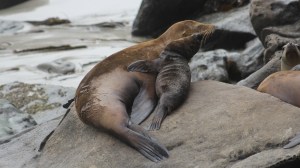 The 2013 deaths were blamed on sea lion mothers' inability to provide adequate milk to pups, possibly because of lack of access to food — and that's a factor scientists are considering this year. Warmer waters from this year's weak El Niño, harmful algal blooms and infectious diseases are other possible factors, according to NOAA.
Wallerstein blamed climate change for increasing local waters by more than 5 to 7 degrees above average, forcing mothers to swim farther away for find their food supply. Pups who are left alone, not fully weaned, leave the Channel Islands where they are born and head to the mainland coast, Wallerstein said.
He is trying to raise $1.5 million to build a new marine mammal center at Dockweiler Beach.
Anchovies and sardines, which are key components of the sea lion diet, have become much less abundant, NOAA reported in December, according to the environmental advocacy organization Oceana.
"From a sea lion and biology perspective, we're learning that the environment is changing every year and the animals are having to adjust," Seattle-based NOAA wildlife biologist Sharon Melin told the Sacramento Bee. "When they can't, we're seeing high mortalities."
If you see a sick sea lion, don't touch it, and don't allow your pets to approach it, NOAA advised.
Report sick or dead marine mammals to 866-767-6114 and/or one of the following agencies:
L.A. County: Marine Animal Rescue, 800-399-4253;
Malibu City Limits: California Wildlife Center, 310-458-9453;
Orange County: Pacific Marine Mammal Center, 949-494-3050;
Ventura County: Channel Islands Marine & Wildlife Institute, 805-567-1505;
San Diego County: Sea World Rescue, 800-541-SEAL; or
Santa Barbara County: Santa Barbara Marine Mammal Center, 805-687-3255.
More Video: