This is an archived article and the information in the article may be outdated. Please look at the time stamp on the story to see when it was last updated.
Seven Toyota Priuses were damaged when a large palm tree with three trunks fell on top of them at a Hollywood car dealership amid the storm Friday morning.
The seven white sedans were valued at about $27,000 each, according to Toyota of Hollywood General Sales Manager Kenny Burns.
One vehicle appeared to be totaled and other heavily damaged, he said.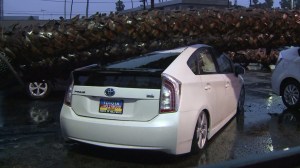 No one was hurt when the trees fell before dawn on the dealership's lot at 6000 Hollywood Boulevard.
It will cost $3,000 to have the massive tree removed, and the dealership was still getting estimates on the cost to repair the vehicles, Burns said.