This is an archived article and the information in the article may be outdated. Please look at the time stamp on the story to see when it was last updated.
Dozens of volunteers formed a "human chain" in an attempt to rescue a 14-year-old boy who went missing in the ocean off Myrtle Beach, South Carolina, on Thursday.
The teen was reported missing in the water at the popular summer vacation spot about 12:30 p.m.
Police officers, firefighters and lifeguards responded, finding two "distressed swimmers" in the ocean, a Myrtle Beach Police Department official told the local newspaper, the Sun News.
Lifeguards and a bystander were able to save one of the swimmers, but when they went to rescue the second, they "lost contact" with him, the official said.
The swimmers are brothers from Columbus, Georgia, police Lt. Joey Crosby said. The younger brother was the swimmer who was rescued.
The missing swimmer was described as a black 14-year-old boy in blue swim trunks.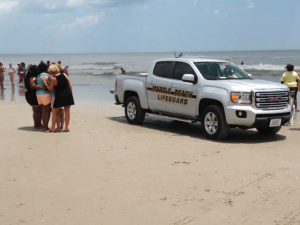 Several "human chains" were joined together to form one long line of people trying to catch the swimmer like a net, according to a lifeguard who responded.
About 150 people were involved, the lifeguard told the newspaper.
"We actually got in a big line and tried to help," beachgoer Lexi May told the newspaper. "There were actually four lines. They were all hooked together so they wouldn't get dragged down by the waves."
The U.S. Coast Guard was helping in the search.
Jet skis that had been patrolling the water were pulled out due to the threat of lightning early Thursday evening, Crosby told television station WMBF in Myrtle Beach.