This is an archived article and the information in the article may be outdated. Please look at the time stamp on the story to see when it was last updated.
Blaze Bernstein was on winter break and visiting his parents in Lake Forest when they proudly explained that his namesake was Blaise Pascal, the 17th-century child prodigy who went on to become a mathematician, inventor and master of prose.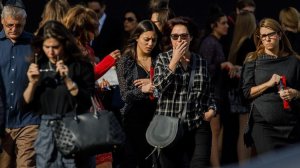 The 19-year-old pre-med student at the University of Pennsylvania flashed a shy smile when they added, "We expect great things from you, too," according to a website the family created in his memory.
A few hours later, Bernstein left the house without saying goodbye. He was reported missing the next day by his family, who became concerned after he didn't show up for a dental appointment.
On Friday, three days after his body was found in a shallow grave in an Orange County park, detectives said they had arrested a former high school classmate in the slaying.