This is an archived article and the information in the article may be outdated. Please look at the time stamp on the story to see when it was last updated.
Hundreds of Selena fans waited outside Madame Tussauds Hollywood for the unveiling of the Tejana singer's wax figure Tuesday.
Gloria Rodriguez got to the museum on Monday afternoon to save her daughter a spot in line and decided to stay herself.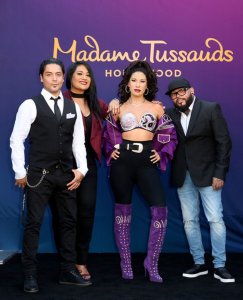 "I named my second daughter after Selena, and she's been imitating her since she was 5 years old," Rodriguez said.
Her daughter, Ariel Selena Rodriguez, said the pop star has been a "humongous" part of her life.
"How can you not be a fan of Selena?" Ariel Rodriguez said. "She is amazing to this day."
Selena, who was known as the queen of Tejano music, was shot and killed by the manager of her clothing boutique in 1995. She was 23.
Selena's family and former husband were also at the celebration Tuesday.
"At Madame Tussauds, our figures represent icons who have made a significant impact on our culture," said museum general manager Colin Thomas. "That perfectly describes Selena. Her influence has transcended generations and her passionate fans continue to be inspired by her to this day. We recognize this and in response, we are proud to join her fans in celebrating her legacy by immortalizing her."
A team of sculptors and artists researched Selena's wardrobe to make the figure authentic. Thy also traveled to the Selena Museum in the singer's hometown of Corpus Christi and worked with her family to get her pose, expression and hair right, officials said in a news release.
The figure is valued at about $350,000 and is recreated to look like a concert Selena held in Corpus Christi in 1993.
"On behalf of our family we would like to express a huge amount of gratitude to Madame Tussauds in creating such an amazing lifelike wax figure of our beloved Selena," Suzette Arriaga, Selena's sister said.
"This is yet another step in making sure that her legacy lives on and that her fans new and old can appreciate her as a person, an artist and one whom we can all identify with."