This is an archived article and the information in the article may be outdated. Please look at the time stamp on the story to see when it was last updated.
Winds may kick up Tuesday and fan the flames of the Canyon Fire, but authorities say homes are no longer in danger and they expect to lift an evacuation order for some 500 residences later in the day.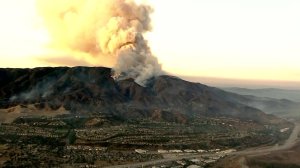 The blaze started about 1 p.m. Monday off the 91 Freeway near Coal Canyon and quickly spread to about 2,000 acres by nightfall. Flames moved from Santa Ana Mountain foothills on Anaheim's eastern edge into Corona and toward the Cleveland National Forest.
By midday Tuesday, the fire was still burning in a canyon in the foothills above the Dominguez Ranch neighborhood of Corona.
Some 1,500 residents were under evacuation orders, but the blaze "went around" their homes, Orange County Fire Authority Capt. Steve Concialdi said Tuesday morning.
Concialdi said the fire was estimated at 2,000 acres – down from an earlier estimate of 2,500 acres – but he indicated the number could change. The blaze was about 5 percent contained, he estimated.
The containment was later updated to 15 percent, according to an Orange County Fire tweet.
"It's died down," Concialdi said. "Right now, it's not threatening homes and we have an ample number of firefighters protecting these homes."
About 900 personnel from various agencies are assigned to the fire, with nine fixed-wing aircraft and nine helicopters working, he said.
Winds of 10 to 15 mph are expected Tuesday, with gusts of up to 25 mph, and that's the main concern, along with increasing temperatures, Concialdi said. Winds were pushing smoke into Orange County, where residents may smell the fire, Concialdi said.
Only one home had been damaged, and one individual – a Corona Police Department officer – received an injury that wasn't related to fire suppression.
Residents were invited to take shelter at Corona High School.
One Corona homeowner who was evacuated told KTLA he packed up his car after police knocked on his door. But he decided to stay after his neighbor, a firefighter, chose to remain behind.
"The fireman's staying? I'm staying," Charlie Tran said.
Adams Elementary School, Cesar Chavez Academy, Coronita Elementary School and Prado View Elementary School were closed Tuesday because of the fire, according to the Corona-Norco Unified School District website.
Traffic was backed up for several miles near the 91 and 71 freeway interchange as morning commuters made their way past the fire Tuesday morning. The No. 5 lane of the eastbound 91 was closed between Coal Canyon and Green River Road, and the Green River Road off-ramp and the road itself were closed from the 91 to Foothill Parkway, the California Highway Patrol announced.
Due to traffic related to the fire, the eastbound 91 Express Lanes will open to all traffic toll-free thru 9 p.m. Tuesday, CHP said.
Video provided to KTLA by @FABIO2196 showed just how close the flames got to drivers on the 91 Freeway Monday evening.
The cause of the fire is still under investigation.
Current Evacuation Location: pic.twitter.com/UmyxhWBiXV

— Corona Fire Dept #CoronaFire (@CoronaFireDept) September 26, 2017