This is an archived article and the information in the article may be outdated. Please look at the time stamp on the story to see when it was last updated.
Hundreds of people turned out for a vigil Tuesday night to honor the twelve victims killed in last week's mass shooting at the Borderline Bar & Grill in Thousand Oaks.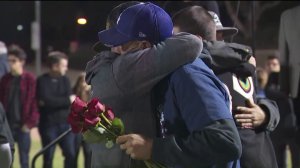 Many of those attending the Pepper Tree Playfield vigil in Newbury Park wore shirts that read "Thousand Oaks Strong."
The community is not only dealing with the tragic Nov. 7 shooting, but also the devastation left behind by the massive Woolsey Fire, which erupted the next day.
Jason Coffman, the father of 22-year-old shooting victim Cody Coffman, spoke during the event.
"I just want to tell you guys thank you for just being there for me. The support that I've been getting is just outrageous," Coffman said.
Coffman brought 12 roses to the vigil – one representing each of the victims – so he could hand them out to the other grieving families.
"I'm going to be OK. I know that the families are going to be OK. And I know that everybody else is going to be OK because, my God, look at our community," he said.
Coffman was one of the first people spotted outside a building where victims were being reunited with family members the morning after the shooting.
He gave several interviews as he awaited news about his son's condition. Even after authorities told him that his son had died in the shooting, a tearful Coffman continued to talk to reporters.
"The companionship that I had with my son, the companionship that my son had with his brothers," Jason said as he began to break into tears. "This is not going to be easy for our family for a very long time," he said.
A private viewing for Cody Coffman was scheduled for Wednesday morning with a celebration-of-life service for friends and family to be held at 7 p.m. at the Perez Family Chapel located at 1347 Del Norte Road in Camarillo.
Meanwhile, crime scene tape is still stretched across the Borderline Bar and Grill as the investigation into the mass shooting continues.
Investigators still want to hear from anyone who has not been contacted by law enforcement who may have further information.
They were asked to contact authorities at 805-654-7620.